Everyone experiences depression from time to time. But imagine how awkward it would be to feel this way, especially when you are at home? If so, it is time to avoid those negative, heartbreaking, and stressful situations that can have a detrimental effect on your mood, and learn tips for eliminating bad energy at home; read on to learn how to remove negative energy from your home.
Keep Your Gateway Clean!
In addition to keeping negative energy out of the way, this tip also leads to creating a good first impression on your guests. The first thing you could do is place small indoor plants at the entrance to make the space appear more inviting. Also, it is very important to keep the house clean and tidy from the outside as it is inside. It is therefore advisable to clean your home's door regularly.
To remove negative energy from your home, use a mixture of lemon juice and water, vinegar, and salt during rinsing. Next, click the sea salt on the door and cover it with a doormat to remove negative energy from entering your area.
Sea salt should be added to the water during the rinsing process, except Thursday.
To eliminate the negative power of toilets and toilets, a simple step is required. According to Vastu shastra, both salt and glass are elements of Rahu. To remove the salt-soaked glass cup from the sea it needs to be kept in the bathroom and toilet.
If the couple's relationship is experiencing any conflict or if they are going through difficult times, placing a small piece of rock salt on the edge of the bed can help. Rock salt helps to remove harmful fibers that create gaps in relationships.
To avoid bad eyes, take a pinch of salt in your hand and shake it in a circle over the victim's head. Do this exercise three times a day. Later, be sure to throw salt in the house.
Burning Incense Sticks & Sage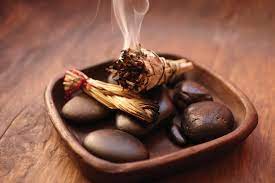 source:verywellmind.com
 Burning incense sticks or Agarbatti amplifies all the positive energy present in space. Incense sticks should be shown in every room and area of ​​your house daily, a few times to remove harmful fibers and promote a vibrant and healthy lifestyle.
Lighting the sage or incense sticks to disperse its smoke in an anti-clock way to every corner of the house will no doubt help you to eliminate unwanted energy.
Using Religious Icons and Benefits of Prayer
Placing religious symbols and objects on it with images of God and the pyramid yantras attracts tremendous energy and removes negative energy.
It should be ensured that the pooja room is located in the northeast of the house to make the Vastu fit.
Religious symbols such as elephants can be placed indoors in an orderly fashion to enhance the power of entry. This will lead to the removal of bad movies and your home.
Duplicating captions on your own or using electronic gadgets is a very powerful way to eliminate bad energy.
Under professional guidance, using Yantra with Mantra is another powerful way to get rid of bad vibes in your home.
Reiki, angelic meditation, and other neo-spiritual practices will certainly help eliminate evil forces.
Make sure you remove the Broken Items
It is not good to always have useless things. These items can be anything from a small pen to your office chair. You need to get rid of all the features you no longer need. This helps to direct your thoughts to positive forces and removes all negative forces that direct your home.
Try airing everything go
When it comes to removing negative energy from the environment or our homes, the first step is to eliminate harmful air in our homes. The best way to avoid such a situation is to make it easier for the air to enter your home by opening the windows to help draw in the air, keeping the window open even on windy days.
Sprinkle Orange Essential Oil around Your Home
The scent of essential oils of orange helps to remind people to smile and helps to elevate your mood and remove all the badness around you. You can spread the drops or instead use a spray to get the same effect. So, now you know what fruit you need to come up with when the question is about to end the criticism that surrounds you.
Remove Clutter
The feeling a person has after removing your clutter is just different. As things often carry a lot of negative energy they also block your physical, mental, emotional, and spiritual pathway. The clutter also makes us feel depressed and tired so why not just get rid of it!
Make the room yellow
source: housing.com
 Color plays a very important role in eliminating negative energy. Yellow is one such color that keeps you away from all sorts of evil forces. This yellow color always helps to make your room look bigger in the space and adds a friendly tone element to your room in terms of interior design.
Want to know Vastu Tips for your Home/Office/Shop/Factory/Plot/Career/Wealth?
Go to website: – https://www.anjaneyvastu.com/