We put a lot of care into planning and decorating our houses in order to improve the atmosphere and make them more comfortable to live in. People nowadays spend a lot of money to make their homes appear nice. Although interior designers do a fantastic job of giving your home a fresh and lovely look, there are several Vastu Shastra-based steps you may do on your own.
The majority of people enjoy having a fish tank or a more elaborate fish aquarium in their living rooms. The sheer presence of colorful fish in the living room makes it appear more unique and bright. Additionally, according to Vastu Shastra, having a fish aquarium in your house offers several benefits. Fish and water, the two main components of a fish aquarium, each have their unique importance. Fishes, on the other hand, bring money, happiness, and success, while the circulating water inside a fish tank indicates life and good energy flow.
Which fish is best for Vastu?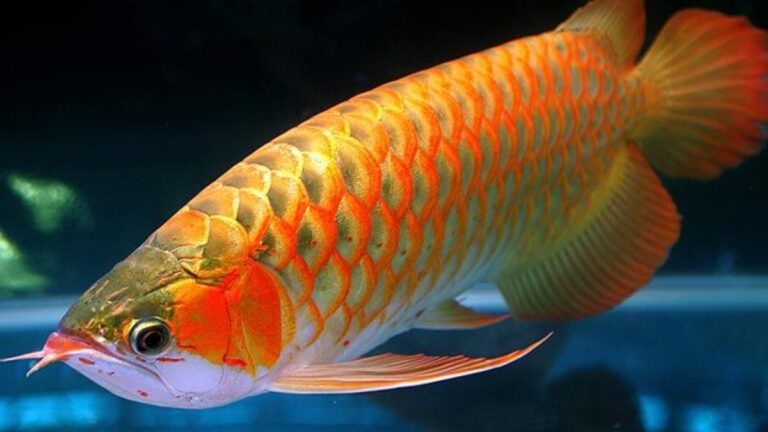 Source – IndiaTV
Arowana Fish is the best for Vastu. When it comes to the notion of a Vastu fish tank, the Arowana Fish or Dragon Fish is the most popular. It is seen to be the best since it represents power, riches, happiness, and health. However, because it is endangered, it is expensive to acquire and nurture.
Because the Arowana fish is considered emperor in the fish kingdom for the powerful stimulant to produce authority and money, it is said that the Arowana fish statue is ideal for attracting prosperity. It can also be utilized if you have a rental agreement.
Which fishes are lucky?
Today in Vastu Shastra, we shall discuss maintaining goldfish at home. It is thought that having fish in the house promotes money, happiness, and prosperity. Fish provide tranquillity to the psyche and carry away any negativity.
Goldfish should be kept in the house, according to Vastu Shastra. Goldfish are quite beneficial to the house's good fortune. They are said to be the holiest and prosperous of all the fishes. The fish has a gold appearance and is thought to provide a gold light to your life. In the east or north of your home's drawing-room, you can keep a goldfish in a small aquarium.
Advantages of Having a Fish Aquarium in Your House
A fish aquarium tends to purge your home of all ills and create a peaceful, fortunate environment.

It is also thought that when a fish dies, your trouble at home or at work dies with it.

This is one of the most effective techniques to bring prosperity energy into your house or office.

In addition, an aquarium has the ability to soothe your mind and create a tranquil environment.

Fish are also linked to Hindu mythology since one of Lord Vishnu's forms was a sea fish. Lord Vishnu appeared on Earth in nine different forms, the first of which was a fish. Because of Lord Vishnu's incarnation, the fishes are said to have a high capacity for consuming negative energy and providing a soothing effect.

If you're having troubles at your house or business and think it's because of a bad Vastu, the greatest thing you can do is install a fish tank. This will also help you get out of your financial bind.

According to Vastu experts, feeding a fish can add up to your good acts, resulting in your house is free of ills.

Colorful and attractive ornamental fish tend to draw everyone's attention. These fish are quite active throughout the entire day, which keeps the spectator interested. Also, seeing these fishes for a time can make you feel energized and free of any troubles.
How to Organize The Fish Aquarium According to Vastu?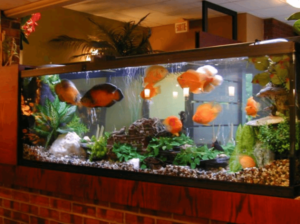 Source – VastuWiki
Before installing an aquarium in the house, it is advised to know how to organize it first.
An aquarium should include a total of nine fish, with eight of them being dragon fish or goldfish and one being a blackfish.

If a fish dies, do not be concerned; simply replace it with another, since it is thought that your difficulties will decrease as each fish dies.

It is strongly recommended that just one person plan and feed the fish meal.

Cleaning the tank or the bowl should be done on a regular basis. Filters, aeration, and water circulation are all necessary to keep the tank in good working order.

Aside from your drawing room, you can't put an aquarium in any other room. It might be positioned to the north or east. Placing an aquarium in another room attracts bad energy and disrupts one's mental equilibrium.

Placing an aquarium in the kitchen or bedroom might lead to issues with food and sleep.

A big fish tank is recommended since it may readily dilute the filth. Glass and acrylic fish aquariums are offered.

Colorful lights and other decorations may be added to it to make it more appealing.