Yes, the North West bedroom is good for couples as The bedroom is one of those rooms at the house where one expects to relax and get a sound sleep after a stressful day at work. Vastu shastra is based on the flow of cosmic energy within a space to improve living conditions and promote harmony and positivity to life.
A couple's bedroom should be such that the ambiance effects in strengthening the relationship created out of marital bonds. It is said by Vastu experts that the North West bedroom for couples is good. Newly or years of the married couple doesn't matter, but what matters is their eternal ties and to maintain a good relationship Vastu says to construct a bedroom with proper thoughtfulness.
The bedroom is a place to unwind stress and carry out different activities of life, and for a couple choosing a bedroom improper direction is important for many reasons such as to prevent the unfortunate death of a spouse, bad health, miscarriage in women, better and early conception, etc.
A couple's bed should be either in the southwest direction or in the northwest direction of the house. As per Vastu, it  North West bedroom for couples is good as it helps nurture love and understanding between the couple. Prior you begin with the renovation, make sure to get a room in the west, south, or southwest direction. This is the direction where love and romance conquer, making your bond strong.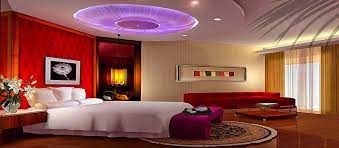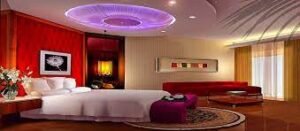 Source: housing.com
Vastu of couple's bedroom plays a very essential role to make their relationship or married life happier. Every place in your home should be planned according to Vastu so that it starts getting integrated with positivity. Yet, the bedroom direction, room colors, lights, mirror & bed position directly affect your relationship.
So, here in the blog, we're sharing the important Vastu tips for a couple's bedroom which every couple must follow.
Your Bedroom Must Be a Regular Shape
Are you deciding to finalize your new house design? Or are you shifting into a new place with your partner? If yes, so choose a house that has a simple bedroom. Bedroom Vastu recommends that regular-shaped bedrooms are the best for married couples. Therefore, avoid bedrooms that have cuts or sharp corners. As per Vastu, sharp corners in the bedroom prevent sleep and take away the calmness from life.
Sleep On a Wooden Bed Only
We all love beds that are thermal and comfortable and according to bedroom Vastu tips for couples, you must choose beds that feel warm. Therefore, avoid metallic beds; they are cold, squeaky, and so uncomfortable. Also, metal frames are likely to conduct electromagnetic fields that can disturb your sleep. So, opt for wooden beds. Experts believe that wooden beds feel warm and bring good luck and positive energy to the rooms. Also like humans, we are relatively conditioned to connect with nature, thus the organic aesthetic of a wooden bed brings tranquility and good energy to the bedroom. Furthermore, wooden beds are known to consume electromagnetic field waves. Thus, technically they are better choices for your bed.
Your Bedroom Color variants must be in Shades of Reds, Pinks, and Or Purple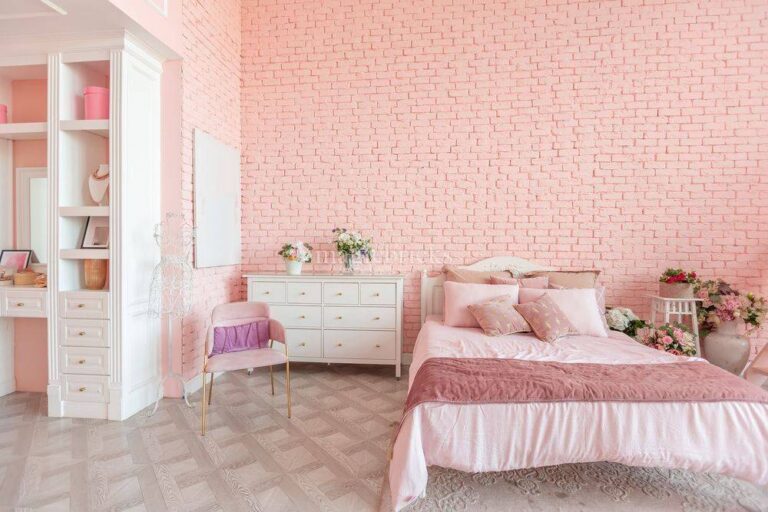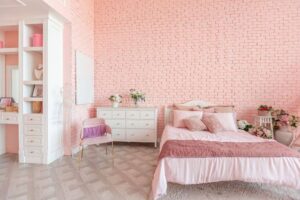 Source: MagicBricks.com
Colors are one of the most considerable factors in interior design. And it plays a big role in brightening up the romance in the bedroom. Thus, go for colors that are warm and passionate. Our Vastu tips for bedrooms for married couples suggest opting for colors such as light red, pink, ruby, and purple. You can also try to choose different shades of red and pink.
Avoid Placing a Mirror In forward Of Your Bed
According to bedroom Vastu tips for couples, mirrors should not be placed on the north side of your bedroom as they may display negativity. Further, avoid placing mirrors or the dressing table right in front of your bed. People believe that mirrors can reflect nightmares and troubles at you and in your life. Therefore, we'd suggest placing the mirror on the walls that are not directly facing towards your bed.
Put up Happy Pictures on your wall
As per Vastu's tips for bedroom for married couples, pictures in your bedroom can affect your relationship with your partner. According to Vastu, place family pictures in the southwest direction of your bedroom. If you have your wedding pictures or any other couple pictures place them on the east wall. It will bring positive energies to the bedroom. You can avoid hanging complex pieces of art or paintings depicting sad stories in the bedroom. On the whole, avoid photos or paintings that stimulate sadness or uninspiring emotions.
Bring Red Lights In your bedroom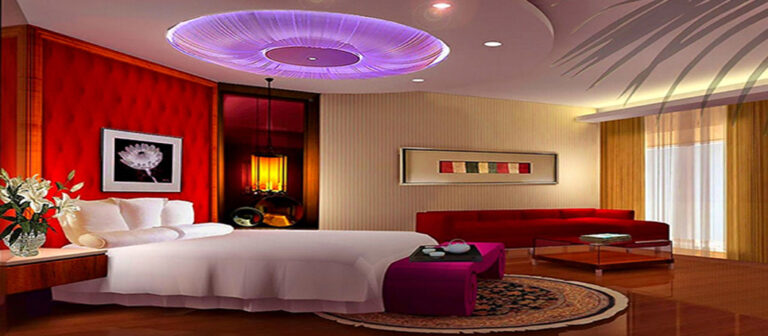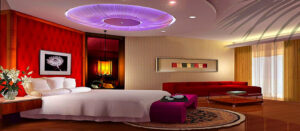 source:livespace.in
Just like colors, lights in your bedroom can also be useful in lighting up romance and bringing positivity to your relationship. So, you must select the right types of light and spaces to install them. Vastu shastra suggests using red lights in the bedroom along the southwest direction. You can use crystal lamps or lampshades with pastel colors.
Want to know Vastu Tips for your Home/Office/Shop/Factory/Plot/Career/Wealth/Health?
You can even get in touch with us or WhatsApp us on +919868886064 for more details and help you solve all your Vastu-related problems.
For more information for our Vastu Shastra Services-https://www.anjaneyvastu.com/