Vastu Shastra is the divine science of architecture that applies to all structural entities in the cosmos. Vastu is concerned with the subtle yet incredibly potent energies that affect every structure and have a substantial impact on the lives of individuals who live there. The status of the 'Five Elements' in a structure determines how energies interact inside that structure.
What is Vastu Dosh?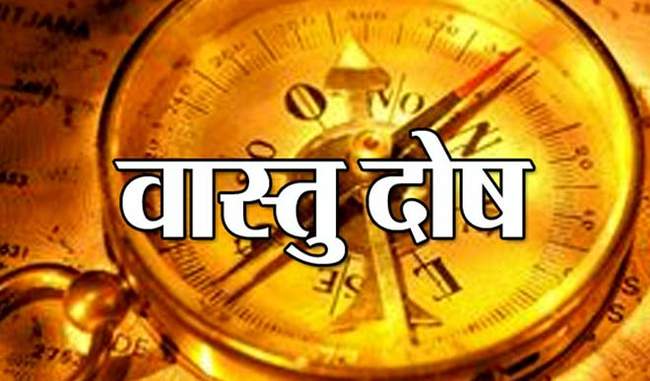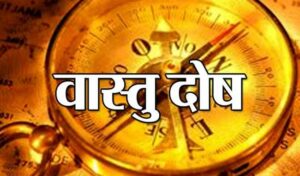 Source – Prabhasakshi
Vastu Shastra is the only thing that connects man and nature for everyone on the planet. However, some defects and shortcomings in the natural components are known as Vastu dosh. People must follow some easy Vastu suggestions to combat Vastu Dosh and make their life more happy and successful. Vastu dosh can cause mental tension and poor health, thus it is essential to act quickly and appropriately execute the advice provided.
Vastu Yantra
Vastu Yantras produce ideal geometrical three-dimensional energy fields that, when appropriately placed in the home, assist to offset the negative impacts of bad Vastu. It shields the user from harmful negative energy in the environment. Vastu Yantras assist us in functioning in harmony with nature rather than working against its powers. Vastu Yantras are exquisite works of art that are based on ancient India's Vedic sacred geometry. Beautiful energies are generated by these cosmic pictures, instilling wonderful spiritual consciousness in your surroundings.
Vastu Dosh Nivaran
A Vastu dosha is simply a violation of any of the principles of Vastu Shastra. A Vastu dosha can occur in your home, office, shops, or showrooms. These Vastu doshas in your home or office often lead to disharmony in the family, obstacles in running your business or being unable to find a job despite being qualified. 
So, to tackle Vastu Dosh, people have to follow some simple Vastu tips & remedies that can make their lives more blissful and successful. Vastu dosh can bring mental stress and bad health, so it is necessary to take quick action and implement the tips given correctly. 
Ghar ka Vastu Dosh ke Upay
(i) Putting Rocksalt in Washrooms
A cup of glass filled with rocksalt should be kept in the toilet and bathroom in the house. This remedy helps in removing such Vastu defects
(ii) Decluttering
Decluttering the house with all the unused and broken items may lead to more room for positivity and good vibes and pushes all the negative energy out of the house.
(iii) Plants
Having a Tulsi plant in the northeast area can be very beneficial for your job and personal life. Make sure its height doesn't exceed 2 meters. 
(iv) Right Placement of Mirrors
Ensure that the mirror has been placed at a height of around four to five feet above the ground. Keeping a large side table or dressing table alongside the bed is considered to be auspicious. But make sure that none of the body parts is reflected into the mirror while sleeping.
(v) Colors and Wallpaper
Vastu for home places significant attention on the colors with which we adorn our homes. Therefore, you should abstain from utilizing dark colors. Opt for shades like white, yellow, pink, coral, green, orange, or blue to leverage positive vibes.
(vi) T-Joint in front of the House
T-Joint is another indicator of negativity and wandering. T-Joint in front of the House is considered inauspicious. It is a major Vastu Dosha and it has been observed that the houses that have T-joints in front of them do not flourish or prosper. These T-joints obstruct the good fortune of the house. 
(vii) Flooring
If you have marble flooring in your home, never keep old leather shoes here and there. If possible avoid marble flooring in the bathroom, bedroom, and toilet. Use marble flooring for the Puja room.
(viii) Placing Semi-precious Stones
Vastu Crystals are transparent stones that represent the energy of the Earth element, believed to exaggerate positive energy.  Many people use these crystals as a most common remedy to make few corrections in their surroundings and to keep away the negative vibes.
Sampurna Vastu Dosh Nivaran Yantra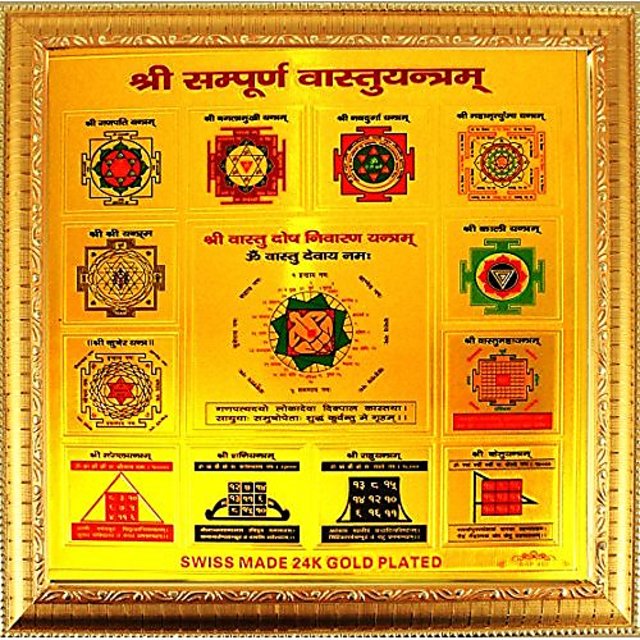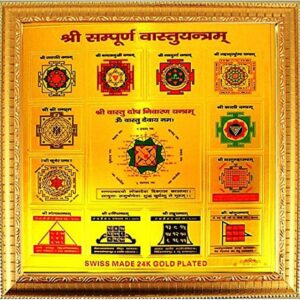 Source – Shopclues
Due to the great complexity of the problem, sometimes a single Yantra is insufficient, and in this case, a specific collection of Yantras is utilized to solve the problem. A Sampoorna Maha Yantra, or ultimate Yantra, is one that has these sets. A large primary Yantra is put in the center, with 12 smaller supporting Yantras surrounding it.
A Sampoorna Vastu Dosha Nivaran Yantra is a combination of 13 Yantras engraved in a unique esoteric pattern and configuration that aids a person in achieving their goals. The available size is 8×8 inches.
The following yantras are included in this Sampoorna Vastu Dosh Nivaran Maha Yantra :
Vastu Dosha Nivaran Yantra (centre)

Saraswati Yantra

Baglamukhi Yantra

Ganesha Yantra

Maha Mrityunjaya Yantra

Shree Yantra

Kanakdhara Yantra

Kuber Yantra

Vastu Maha Yantra

Mangal Yantra

Shani Yantra

Rahu Yantra

Ketu Yantra